BIOGRAPHY OF JEFF TRACHTA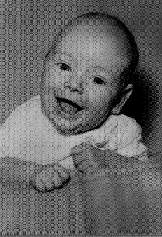 A very young Jeff Trachta
The beginning....
Jeff Trachta was born on October the 6. 1960 on Staten Island, New York. He has two siblings a brother:John, and a sister: Nancy. Jeff's father who died of lung cancer when Jeff was 19, worked at Sears Roebucks, which is a big department store. Growing up Jeff attended a prep. school which was an all boy Catholic High School. The teachers were nuns and priest, and according to Jeff he made a lot of fun at their expense, especially with his impersonations, a talent he masters today as well.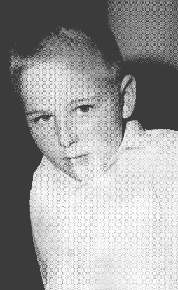 Jeff Trachta as a kid
As a child Jeff went through a lot, he was a chubby kid who would sit at home with his dogs and pray. As every young child Jeff had a dream, but he didn't want to be a policeman or a firefighter, no he wanted to be a Catholic priest:"I was studying (in school) to be a Catholic priest.... I just woke up and smelled the coffee one day. Life's too short, you know - you've got to do what makes you happy" (Soap Opera Update, March 5,1996). Jeff didn't spend his childhood all alone, around age 10, he was offered an Irish Setter from two older ladies, his parents made him take the dog to the Staten Island Dog Training Club, and the dog remained a close friend up until its death when Jeff was a sophomore in high school.
How it all began....
In 3rd grade Jeff was chosen to be Papa Bunny in the Easter pageant, and the twelve pages of dialogue along with the feeling of being on stage made Jeff aware of his acting skills, and he continued to play roles in various high school productions including "Camelot".
After high school Jeff went on to St. Johns University, where he received a degree in psychology and theater arts. His used his degree in psychology to get work as a recreational thearapist for blind and retarded adults in New York City, but soon after that he moved out to Los Angeles to work with 1500 senior citizens. The flight to LA marked a new era in Jeff's live, this was his first time on a plane, and he was now 21.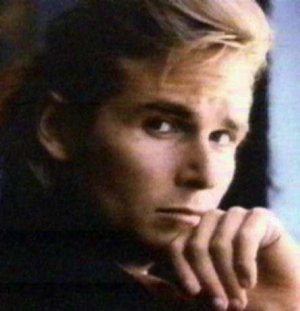 Jeff Trachta the actor
The beginning of something beautiful....
Along with his work, Jeff also found time to study at The American Academy of Dramatic Arts in Pasadena for 8 weeks, which became the foundation of his acting career. Jeff debut was in the musical "Grease", where he portrayed "Danny Zuko", and it was from there he was discovered, and he ended up getting a part on "One Life To Live" in NY playing Boyce McDonald. Jeff stayed in New York where he did some regional theatre before joining the cast of "Loving" to portray Hunter Belden around 1983 or 1984. After "Loving" Jeff returned to doing regional theatre where he for a few years worked non-stop (teaterpage).
It is not always pure fun....
After having worked for a long time, Jeff went through "starvation period" in New York, and he had to take non-acting jobs to feed himself as well as his two beloved dogs Lucy & Ricky, his many jobs included: Waiter, doorman, working for a company called "Little Elves", where he cleaned peoples' ovens, and around Christmas he worked as Santa Claus at "Macys" at Harold Square in New York City.
A "Bold & Beautiful" move....
This ultimately led to his second attempt to conquer Los Angeles so in early 1989, Jeff found himself on a plane going to Los Angeles. A short time after he had arrived in LA, he went to an audition for "The Young & The Restless" taped at Television City in Hollywood, he auditioned for the role of "Jack Abbott", he made it through the first four tests, but in the end the producer William Bell felt he was too young, and that he would be very suited to play the role of "Thorne Forrester" on "Y&R"s sister soap "The Bold & The Beautiful". The offer came just in the neck of time, because Jeff had found himself with only $11 in his pocket and two dogs to feed. So in August of 1989 Jeff assumed the role of "Thorne Forrester" on "B&B" after Clayton Norcross was fired.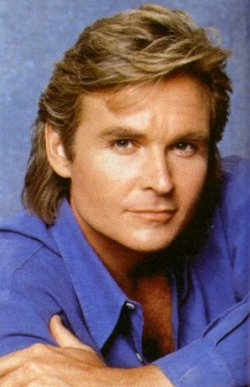 Thorne Forrester AKA Jeff Trachta.
As Jeff assumed the role of Thorne Forrester on "B&B", he told William Bell the creator that he would love to sing on the show, and after a while the producers wrote a song for Jeff and fellow co-star Bobbie Eakes (Macy Alexander) to sing, entitled "What's Forever for", so in 1990 Jeff's singing career began. The in-corporated singing advanced Thorne & Macys storyline, and at times when their characters were unable to talk, they found way into each others hearts by singing, we all remember: "Just You & I", when Thorne proposed to Macy, "Here & Now", as part of the wedding ceremony in 1990, they even sang during their divorce. The duo Jeff Trachta & Bobbie Eakes soon became popular in the States and Canada, and they were asked to do public appearances all over the country. These appearances also gave Jeff the opportunity to show the public how different he and his character Thorne Forrester were, by using one of his many talents. comedy, and impressions. This was displayed at the "B&B" Fanclub events, where Jeff would give a taste of his talents to the delight of fans.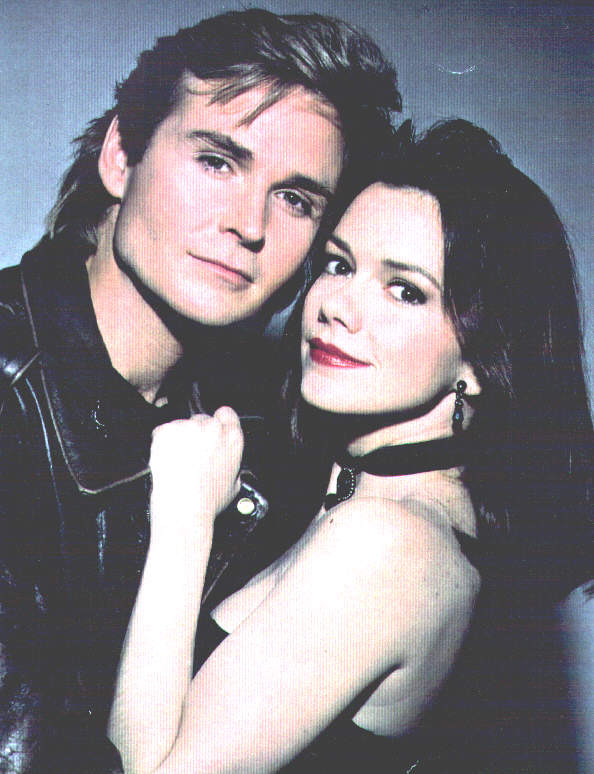 One of daytimes hottest couples:Jeff Trachta & Bobbie Eakes
Jeff's contract with "B&B" was for 4 years, and in February 1994, he was taken off contract and his status on "B&B" became recurring. Jeff did take it as if they didn't want him on the show, they just didn't know what to do with his character. So while Jeff's alter ego was in Paris, Jeff now found time to pursue other projects. He was put in touch with Charles Randolph-Wright by actor-producer-coach Jeffrey Markus. Randolph Wright director and co-author of the musical "The Diva Is Dismissed", met with Jeff and they spend the next three weeks plumbing Trachta's life for fodder to be fictionalized ultimately sharing co-writing credits for "Agency". "Agency" became Jeff first true solo success, it is a one-man show where Jeff portrays more than two dozen characters, male and female. The setting is a talent agency in LA. The show gave Jeff a lot of attention through-out Hollywood, and the result was a sitcom development with Castle Rock Television, and a new manager Buddy Morra, who also has clients such as Billy Crystal & Robin Williams.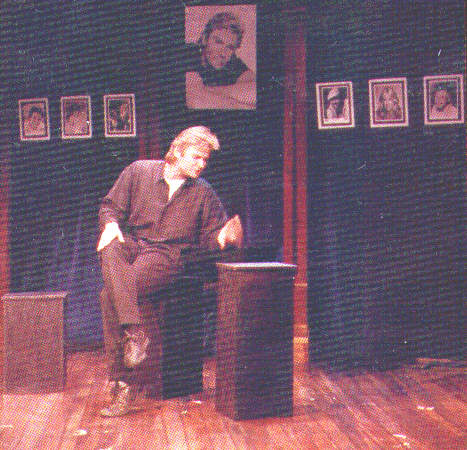 Jeff in his hit one-man show "Agency"
The Feeling of Success.
Jeff association with "B&B" gave him the opportunity to visit countries he might not otherwise have seen. And it wasn't until 1991 Jeff left the United States for the first time in his life. The occasion was a visit to Toronto, Canada where he together with co-star and singing partner Bobbie Eakes sang and entertained at the 11th Annual Variety Club Telethon. Many trips to foreign countries have followed since, also after "B&B". But there is no doubt about the fact that "B&B" is very popular in Europe, and Jeff has time and time again experienced that up-close. The release of "B&B" Duets in 1994 with Bobbie made their popularity go through the roof in the Netherlands, Belgium etc., the popularity of Bobbie & Jeff was made part of "B&B", when their alter egos Thorne & Macy gave a sold-out concert in Ahoy, Rotterdam in 1994 as part of their storyline.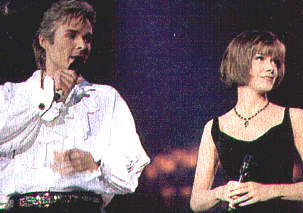 The Ahoy experience in October 1994
The concert was in deed given by Jeff & Bobbie, and the 9000 people in the audience where made part of "B&B", everybody involved in the project relates that it was an experience they will not forget.
Taking Broadway by storm.
In 1996 Jeff made his debut on Broadway in the Tommy Tune & Barry Weisler production of "Grease" at the Eugene O'Neill Theatre. He was chosen to succeed Jon Secada as Danny Zuko, not only was this Jeff's first run on the "Great White Way" this also gave Jeff the opportunity to play the role that in a way had brought him where he was. Trachta first played the role of Danny Zuko when he was 21 he attended the American Academy of Dramatic Arts in LA, where an agent saw his work. Jeff was chosen for the role in 1996 after the producers had seen a videotape of one of his concerts in Europe. The run on Broadway was a dream come to true for Jeff: "I feel like I am living an MGM musical, I'm really living a wonderful time in my life. And I know that I am going to look back on this as one of the great highlights of my career" (Soap Opera Update, March 5. 1996). After his run on Broadway ended in April 1996, Jeff returned to LA and to "B&B", however not for long. With a wish of concentrating on the music in his life for a while, Jeff taped his final episode of "B&B" on Friday the 8th of November 1996, an era had ended, and a new was about to begin...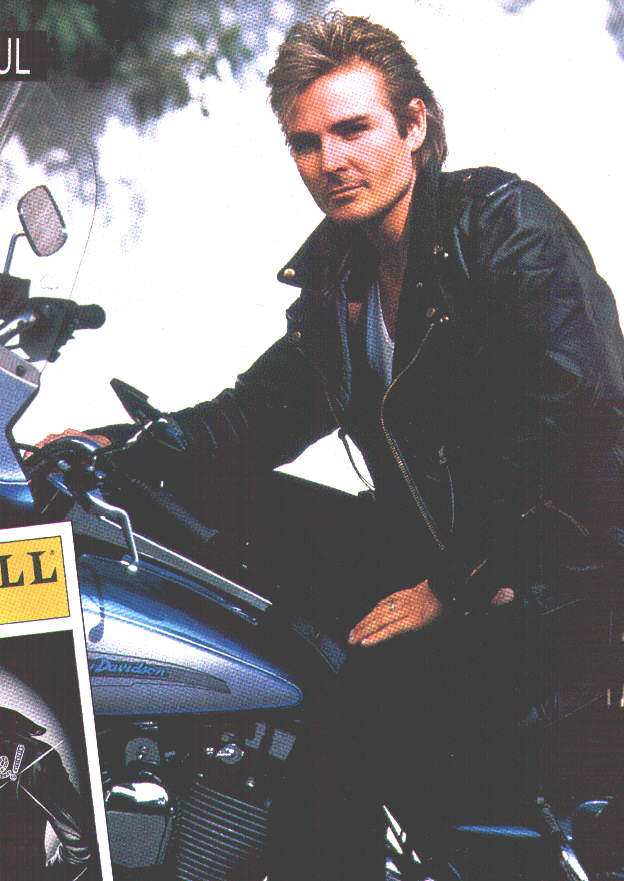 Danny Zuko
In 1997 Jeff kept busy with travelling and he made his latest movie, entitled "A Bold Affair" or "Interlocked", more info on the movie page. And in late 1997 Jeff busy as always managed to play Kenny Brewster in "3 Guys...", and plan a concert tour with former "B&B" co-star Bobbie Eakes in Holland, the concert tour was a huge success, and at the same time Jeff released his first single "Young Girl", and in early 1998 that was followed by "Say Goodbye".
Returning from Holland, and back in LA, Jeff was awarded the Drama Logue Award for Outstanding Achievement in Theatre for "3 Guys...", and an Ovation Award nomination followed later in 1998. Jeff currently lives in Burbank, CA, in a house he has totally renovated, when he wishes to take a break from his everyday life, he goes to Lake Arrowhead, CA where he owns a cabin built in 1924, and has other celebs. like Barbara Streisand and Patrick Swayze living close by, and there Jeff can relax with all his animals, he loves animals.
Jeff is currently working on his first soloalbum. And is also in the process of taking his hit one-man show "Agency" to New York later this year, or in the beginning of the new millennium, and furthermore he has just finished shooting a guest-starring role in Pamela Andersons series "V.I.P"
Jeff is always on the move, and as he once said it, he has tried not doing anything and he doesn't want to do that again, but in the little sparetime he has, Jeff enjoys skiing, water & snow, he plays the piano, his favorite colors are: green & blue, and he stands 6'2".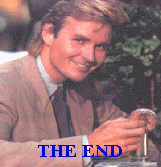 © 1999 Pernille Jorgensen