DID YOU KNOW..?

How well do you know Jeff, now you have the opportunity to either confirm your knowledge or perhaps learn something new about Jeff Trachta and his life.

1. Did you know that when Jeff was first hired to play "Thorne Forrester" on "B&B", he told the creator William Bell that he would love to sing on the show sometime?. Mr. Bell told him to wait a few month, because his character was going through some pretty horrible stuff at the moment, so he really didn't have anything to sing about. So Jeff waited for a few month, and then he knocked on all of the producers doors, and told them he'd be singing in one of the rehearsel rooms. Jeff had hired a pianist, who played while he sang. He gave a 30 minute concert, and afterwards he recieved a standing ovation. The next day Jeff was asked to sing for Mr. Bell in his office, and a week later, they wrote the episode which launched Bobbie & Jeff's singing career.

2. Did you know that when Thorne & Macy got married for the first time, back in 1990, Jeff injured himself during the taping of the episode? Jeff fell on the floor at 2 o'clock in the morning.Jeff & Bobbie were singing "Here & Now", Thorne & Macys wedding song. Jeff couldn't remember the words, eventhough the had performed the song several times before. They were laughing, and Jeff started jumping up and down. He ended up falling on his butt. So when they were singing the song, he was in terrible pain.

3. Did you know that Jeff's beloved Cocker Spaniels Lucy & Ricky were born on the same day?

Lucy & Ricky were both born on Friday the 13th 1987 (month unknown). Lucy in Nebraska, and Ricky in Montana.

4. Did you know that Jeff's first episode on "B&B" was episode # 619 and his final episode was # 2436.? Jeff began on "B&B" in August of 1989, and he taped his final episode on Friday the 8th of November 1996.

5. Did you know that Bobbie Eakes had sort of a psychic vision, the first time she saw Jeff? Bobbie first saw Jeff when he was doing one of his "Y&R" auditions, and when she laid eyes on him, she turned to Darlene Conley (Sally) and said "I'm going to marry that man". ( Little did she know that she would marry him twice).

6. Did you know that Jeff Trachta has posed for "Playgirl"?. He did it shortly after he had assumed the role of "Thorne Forrester", he had gotten permission from William Bell, and the pictures were all decent.

7. Did you know that Jeff sang at Bobbie Eakes's real life wedding to David Steen? Jeff was asked by Bobbie as well as David to sing at their wedding. Jeff sang two songs. A duet with Bobbie's sister Sandra: "Here & Now" aka. Thorne & Macys wedding song. And during the reception Jeff sang:"I can't help falling in Love with you". In the weeks up until the wedding, Bobbie had given Jeff a new song to sing, she kept changing her mind, so it wasen't decided until the last minute, what song Jeff would sing.

8. Did you know that Liza Minnelli came and saw Jeffs one-man show "Agency"? Liza Minnelli saw "Agency" back in 1994, after the show she came back stage to give Jeff a hug and tell him how much she had enjoyed the show. They talked for about 45 minutes.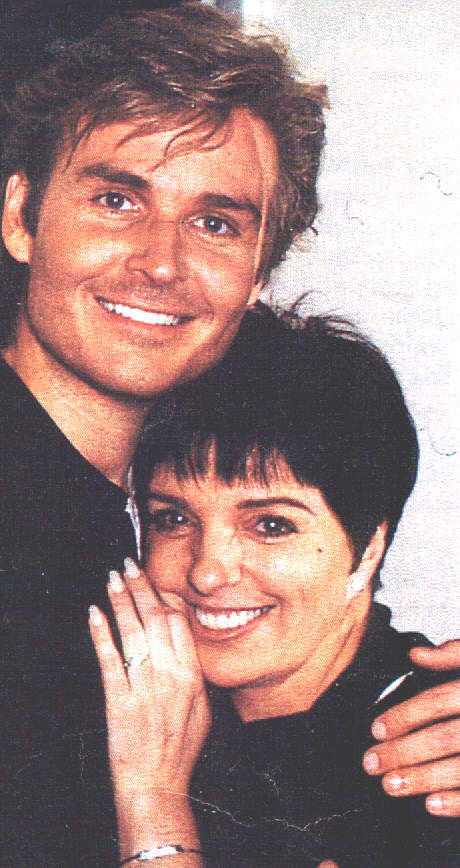 Liza Minnelli also saw "Agency"
9. Did you know that Jeff does dead-on impersonations of Edith & Archie Bunker from "All in the Family", as well as Pee-wee Herman, Ronald Reagan, and Charles Nelson Reilly? Those people were all featured in Jeffs hit one-man show "Agency".
10. Did you know that Jeff Trachta & Bobbie Eakes's second duet album "Duets II" turned Gold after having been on the market for only 3 days, in the Netherlands.? To see how Jeff & Bobbie's other album sold please see the Awards page
©1999 Pernille Jorgensen